German Web Sites, Translated Documents and Maps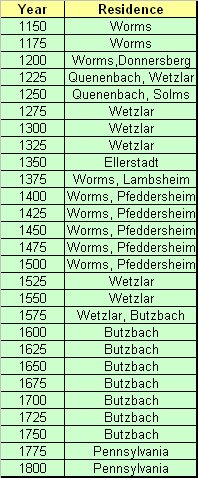 Winfred Liebrich's Web Site

Dr. Winfred Liebrich of Berlin has been very active in compiling information about the Liebrich family across the world. He maintains an extensive web site which includes both English and German language resources. Lineages, document copies, newspaper clippings and other items are available there.

As a way of sharing that research, Dr. Liebrich organized a world-wide reunion in Bockenheim Germany, in April 2000. I was privileged to attend that event, along with a number of others from the US. We celebrated the Liebrich heritage, enjoyed music and poetry and humorous lectures by various speakers and wine from the local Liebrich winery and toured sites of interest to our specific branches of the family.

Translated Documents, courtesy of Reinhard Zell

The souvenir booklet produced by Dr. Liebrich contained a wealth of additional information on the family. One of the articles included in that booklet was entitled "Über den Namen Lieberich in der Pfalz". It was published in "Arbeitzgemeinschaft Krupfälzischer Sippenforscher", Volume 1, number 2, in August 1927. This anonymous article chronicles the Liebrich name and its variants beginning in 774 A.D. up through the early 1700's. It describes, among other things, the circumstances under which our ancestor was awarded a coat of arms. An English translation of this article, done by Reinhard Zell, can be found HERE. I can provide contact information for Mr. Zell, if you wish to follow up with further questions. For a map of the areas mentioned in this document, click HERE.

A second article included in the reunion booklet by Dr. Liebrich is entitled "Familien Lieberich in Der Pfalz", and was written by Heinz Lieberich. It was published in "Pfälzisch-Rheinische Familienkunde, Volume 8, number 3, in 1978. Mr. Reinhard Zell has done a translation of this document into English, and it can be found HERE. This article covers the time frame from 1350 A.D. into the 1800s.



Return to Table of Contents